Showcase Story 3 - Jura's Jazz and Jewellery
"Russia, late 1980s. Jura leads a 'double life' in St. Petersburg, an important industrial, cultural, and scientific center. During the day, Jura works as a petrochemical engineer. In the evenings, he does what he loves most: making jazz music. He is as versatile as his hometown.
Days fly by, from the laboratory to the stage, to bed, and back to the laboratory. And in between, Jura makes enough time for his family. Until he is suddenly faced with a choice that could change his life. He is invited to attend the jazz program at the conservatory in Arnhem, as one of the first Russian students ever.
Jura doesn't hesitate for a moment and decides to follow his passion. He and his family move to the Netherlands, where he quickly becomes a teacher and celebrates successes as a musician. He tours with bands like HalfPast MidNight and Curtis Knight, mentor of the incomparable Jimi Hendrix. Not the least of accomplishments.
But then, in 2003, something happens that turns Jura's intense life as a musician upside down. He falls, breaks his calf and shinbone, and suffers a shoulder trauma. He can no longer play the drums..."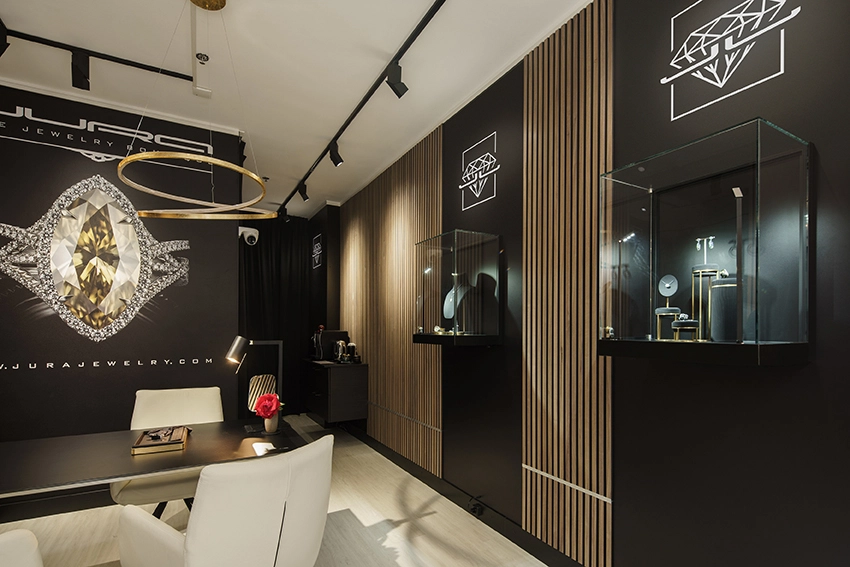 "Godfather of Diamond Setting"
A new career switch was already imminent, but now he had to make it out of necessity. And it happened in his own unique way. "My father was sitting next to a friend who was working as a diamond setter," says Xenia, daughter and owner of Jura's Jewelry. "While he was watching, something clicked in his creative engineer's mind. 'This can be done easier and better,' he thought. He then developed an ergonomically perfect workstation, as well as clamps and milling tools to set diamonds for hours with microscopic precision, even if they are no larger than 0.4 millimeters. My father always said, 'If I can hold it, I can set it.' Later on, he became known as the 'godfather of diamond setting.'"
"My father always said, 'If I can hold it, I can set it"
What Jura is capable of borders on the impossible. He once managed to set 532 four- and five-sided diamonds in less than two grams of gold. He also created the world's flattest watch, adorned with a staggering 2012 diamonds. Assisted by the eye-hand coordination he honed as a drummer. "So precise, it's unbelievable," says Xenia. "And the remarkable thing is that he has huge hands. With them, he mills, drills, and removes material to create space for each stone. Then he secures them with so-called prongs: super tiny claws."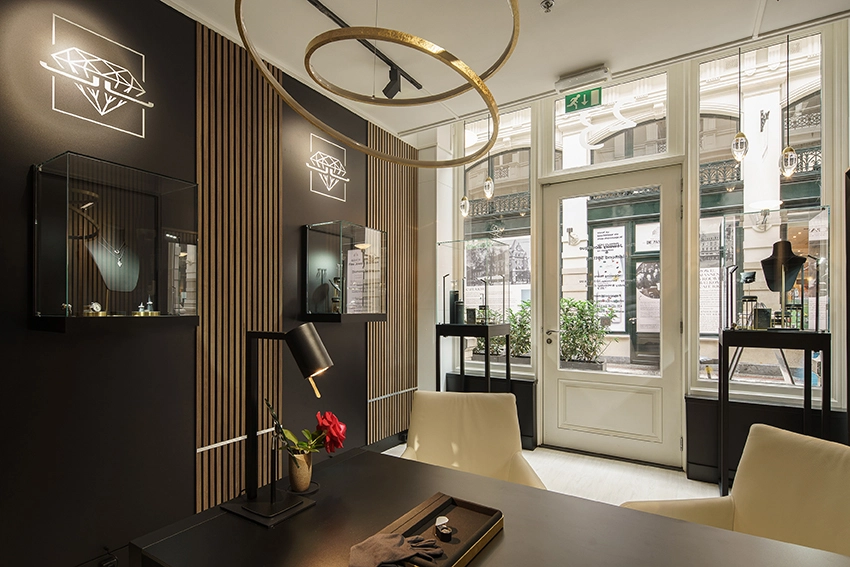 Art
Often, the emphasis in jewelry lies on the carat weight and the number of stones. That naturally captures the imagination. But according to Xenia, that would underestimate her father's jewelry. "What he creates is art. Each piece is unique and highly refined. Every stone should be able to fully enjoy the light, bringing the piece to life. Can his style be described? Yes, indeed: classic, elegant, and minimalist. And because it's such a distinct style, the jewelry is also timeless."
"Every stone should be able to fully enjoy the light, bringing the piece to life"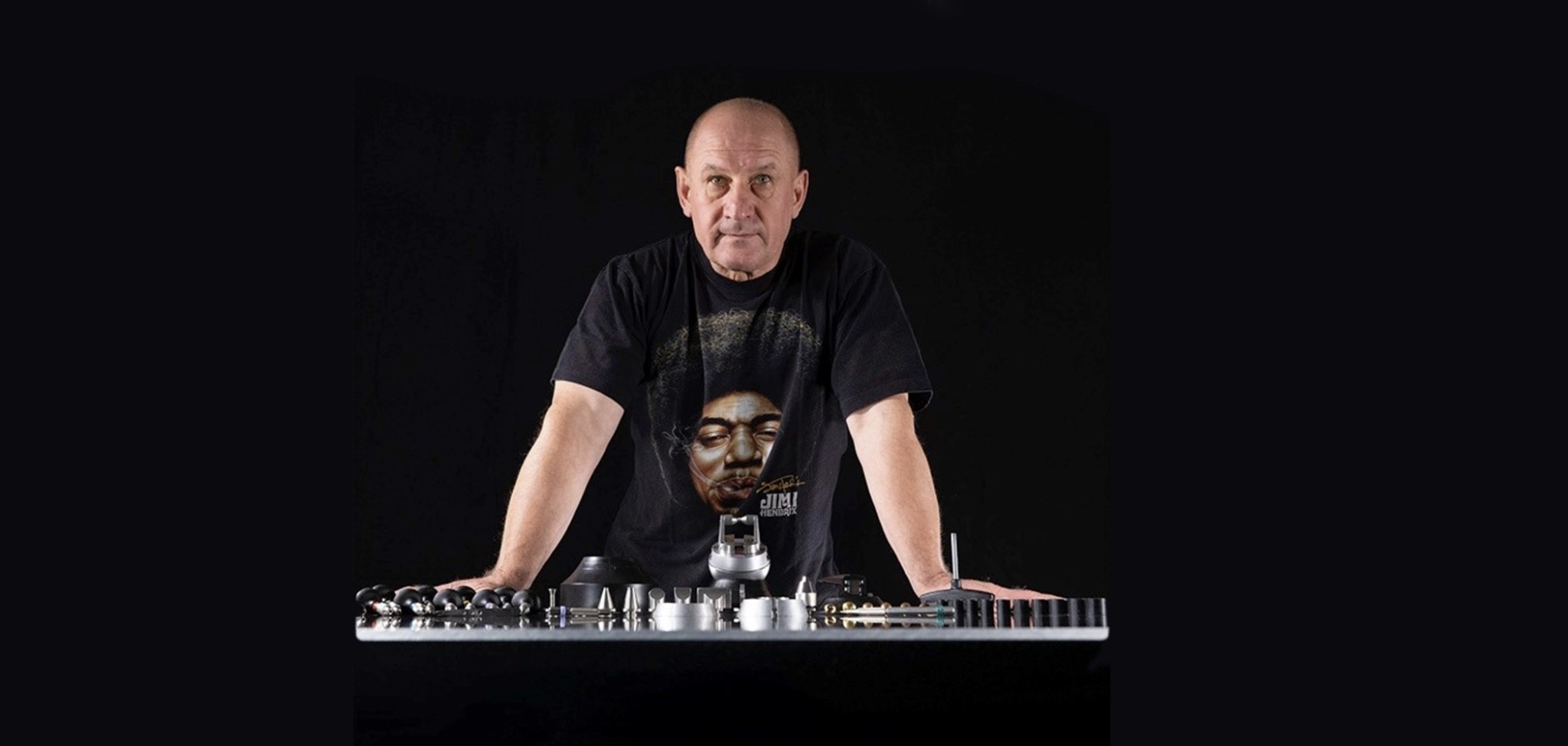 "That small girl in St. Petersburg"
Jura is admired around the world for his work, including by his daughter. "I feel the need to showcase his pieces to the world," says Xenia. "That's why I opened the boutique in The Hague. In a very special location: the beautiful Passage. When I came here for the first time, I was enchanted. I felt like that small girl in St. Petersburg, where there is a similar architectural structure. I expressed my interest, and one thing led to another..."
At Jura's Jewelry, the jewels have been sparkling in SDB Vitrinebouw's showcases since this summer. And according to Xenia, it's the perfect match. "The showcases are also of high quality and minimalist. They create a sense of tranquility in the intimate boutique, allowing me to work wonderfully. I enjoy every day, just like that small girl in Russia."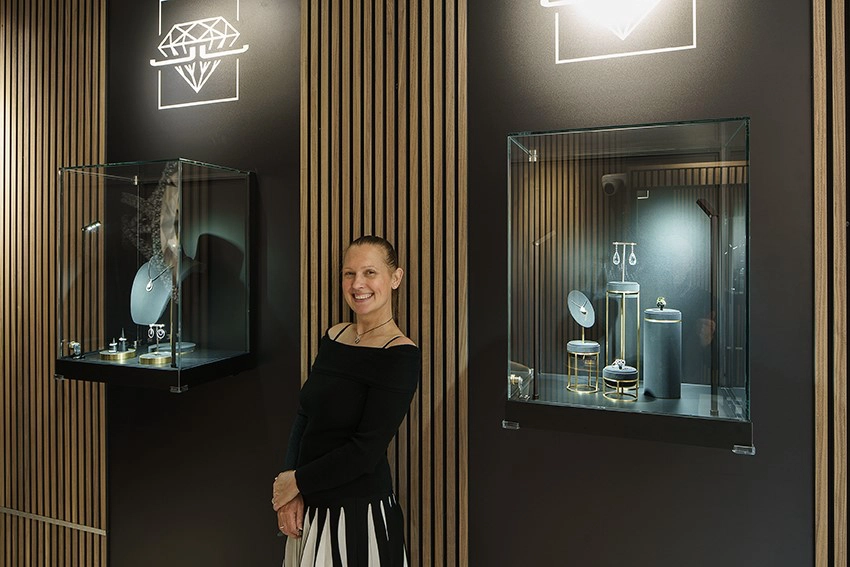 Behind each object in a showcase, there is a remarkable story. The featured piece certainly earned its place behind the glass. We share these historical, thrilling, and captivating stories in the Showcase Story section.
Do you have a Showcase Story worth savoring? Let us know at [email protected]